Mindy Ballou Fitzpatrick
Mindy Ballou Fitzpatrick of Morehead City is easily noted as one of the most outstanding female athletes in the history of Carteret County.  As a basketball player at West Carteret High School she received all-American honors and is in that school's Hall of Fame.   She starred collegiately at the University of South Carolina and played professionally.  Also, she was an outstanding surfer with numerous trophies and championships.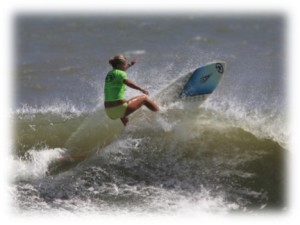 … Mindy's vibrant leadership continues to help, heal and inspire. Whether they are friends from her past or family and loved ones on her busiest days, she is ready and willing to lead them with the tools she has learned from her long ago competitive sports days and her endless hours of time given of her own body to a discipline of time dug in the trenches that taught her courage and gave wind to her depth of optimism. She is loyal to her passion of the game. A passion that has taught her how to love life. Sports teaches that. Mindy figured that out. She taught that to all of us.
Colleen Frost #33